Brand & Logo Standards
Why a Brand is Important
We have created a unified, positive and distinct brand for Merced College that effectively  communicates the College's identity, reputation and values as one of the leading educational institutions of higher learning in the region. Through the proper and consistent placement of the Merced College logo and its affiliated designs, we have the opportunity to communicate to the world messages about what our College stands for. Our visual identity reflects more than artistic designs and thoughtful typestyles; it speaks volumes about our values and image.
Thank you for being part of efforts to develop and communicate our brand.
Logos
The college logo is the core of Merced College's visual identity and must be used in all communications and promotional materials.
Academic Branding
Explore our portal of all the Academic Logos
Spirit Branding
Visit out Spirit Branding portal to get the most up to date versions of our logos for spirit branding and athletics.
Logo Standards
Whenever possible, all materials and communications should be created using the Primary logo in full color.  In situations where the Primary logo will not fit because of size constraints, the Secondary logo may be used with preference on using the full color version. View the guidance below on when it is permitted to not use the full color logos and the do's & don'ts of how to use the logo properly.
One Color & Reversed
While we encourage widespread use of the full-color College logo, we do acknowledge that there are times that one color is your only option. The guidance is to use only white or blue. Reversed logos are meant to be used where the contrast between the logo and the background is optimal such as a blue background.
Official College Seal
The seal signifies the academic character of the College and is appropriately used in support of official College policies, decisions, ceremonies or other formal actions as an academic institution. To maintain its integrity, the seal may not be used for informal, routine or promotional materials or for materials not directly related to academic purposes without written permission. The seal, in full color or line art, is restricted to, but not required on, the following:
The Office of the President;
College-level formal and official documents such as diplomas, academic awards and certificates, transcripts, resolutions and Commencement invitations, College reports
For questions or to submit a request for exception review, please contact the Office of External Relations at mcnews@mccd.edu.
Logo Do's & Don'ts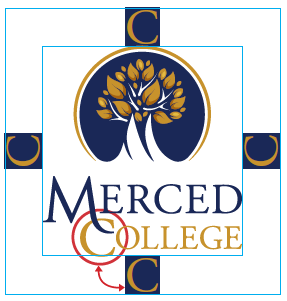 Clear Space
Maintain clear space around logo equal to height of the "C" in the word "College"
Minimum Size
In order to ensure legibility, the logo must not appear smaller than the following dimensions.
8 point type

no less than 150 pixels width